What are your interests and talents? The printing industry offers many opportunities for people with different kinds of skills. Which role will bring out the best in you?
An account manager is responsible for the management of sales and relationships with important customers of the printing company.
A sales support specialist provides troubleshooting assistance for customer orders, account statuses and is responsible for the relationship with all customers (small and large).
A printjob pricing specialist provides financial calculations for printjob quotations, supporting the account managers and sales units of the company.
A communication advisor is responsible for developing and providing communications strategies, services, products, tools and advice to customers of the printing company.
A cross media advisor is responsible for developing and providing cross media strategies, services, products, tools and advice to customers of the printing company.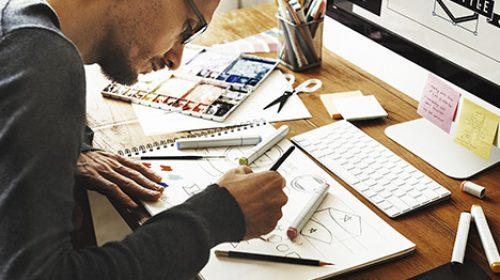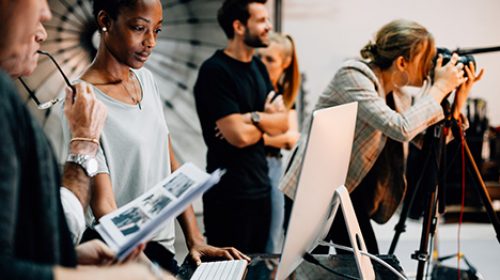 A printjob manager organises all printjobs in an efficient routing scheme of all the necessary steps in the prepress, printing and binding processes.
An IT database operator is responsible for the handling of all files in the web-to-print database within an automated printjob software system.
A photographer is responsible for producing creative and technically correct pictures for advertising print and cross media production orders.
A graphic designer creates visual concepts, using computer software or by hand, to communicate ideas that inspire, inform, and captivate consumers. They develop the overall layout and production design for applications, such as advertisements, brochures, magazines, websites and much more.
A Dtp operator is a technician who prepares printing processes by formatting, setting and composing text and graphics into a suitable form. Prepress operators create a prepress proof, or sample of what the finished product will look like. In many printing contracts, the client at this stage decides whether the print can go through as planned. In most printing companies, a Dtp operator is also responsable for the computer-to-plate production process.
A web designer is a creative job to plan and create internet sites and web pages, many of which combine text with sounds, pictures, graphics and video clips. A web designer is responsible for creating the design and layout of a website or web pages, using images, HTML, CSS, and JavaScript to do so.
A quality control worker records the results of their inspections through test reports. When they find defects, inspectors notify supervisors and help to analyse and correct production problems.
Computer-to-plate operator
A computer-to-plate operator prepares print plates to be used as the original in various printing processes and media. Plates are laser-etched from digital sources with computer-to-plate technology. A specific process is used for production of offset plates and for flexography plates.
Gravure cylinder preparation operator
A gravure cylinder preparation operator is responsable for all steps in making a gravure cylinder. This includes the engraving and chrome plating of the cylinder surface, and transportation of the cylinder to the printing press.
Screen making technicians engrave or etch screens for paper or textile printing.
Die-cutting/embossing craftsman
A die-making craftsman is a specialist in making two matching engraved dies in a specific shape to cut or change the surface of the material.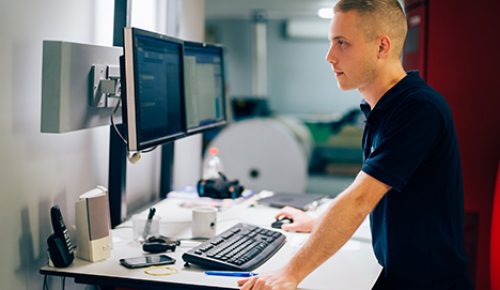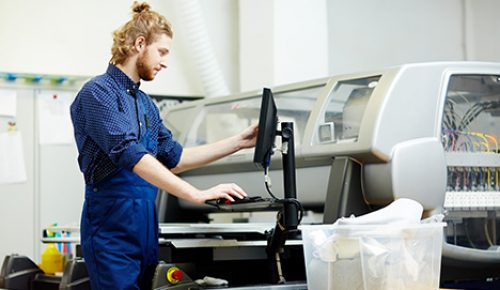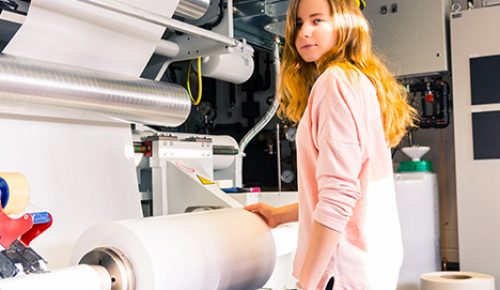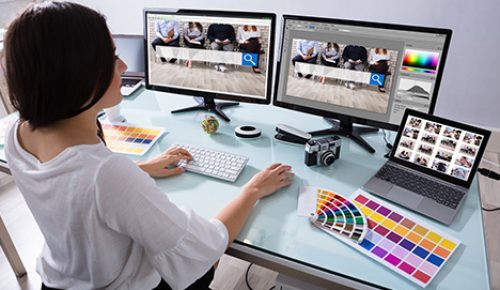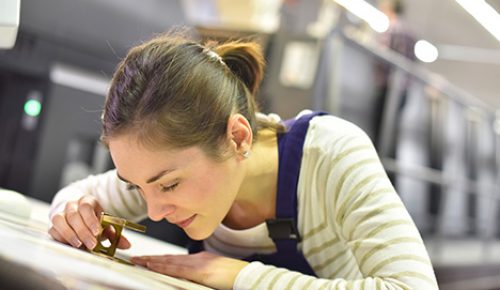 Sheet-fed offset printers handle an offset press in order to print an image. The offset press transfers an inked image from the plate to a rubber blanket before to print it onto the printing surface. Most offset presses are computer operated and controlled, with four, eight or ten colour units.
Web-fed offset printers work in a team of printers in order to print high circulation of newspapers or magazines within one production run. The highly automated process implies continuously printing on paper from diverent paper rolls, assembling of paper webs, folding and cutting, inserting of other prints, and print addressing from databases with inkjet printers. All in one production flow.
Gravure press operators work with gravure presses, where the image is engraved directly on a roll. They set up the press and monitor it during the operation, taking care of safety and resolving problems. Gravure printing is a highly automated process, and implies the build in and extend of the engraved cylinders in and out the press machine.
Flexographic press operators use a flexographic relief plate to print on almost any material. The relief plate is inked and pressed onto the material to be printed. The large flexo press machines have eight to ten colour units and are computer operated and controled.
Screen printers tend a press that presses ink through a screen. Industrial screen printing is often used to print on materials that are hard to use with other processes, like rigid plastic surfaces and textile.
Nonimpact printers work with machines that print directly to the medium, without an intervening plate. Digital printers usually use laser or inkjet technology to print individual pages without lengthy or labour intensive technical steps intervening between the finished digital product and the print.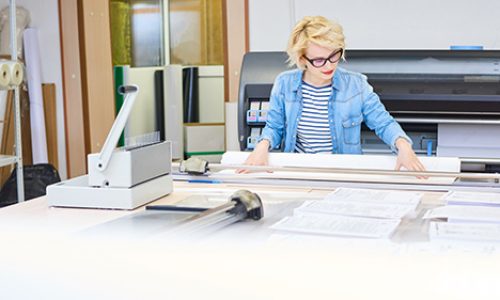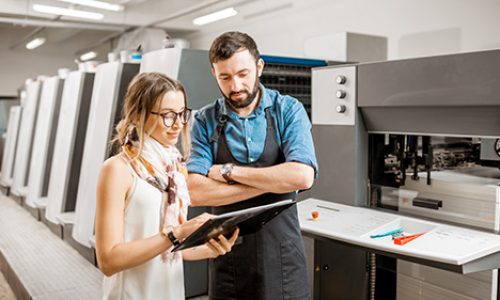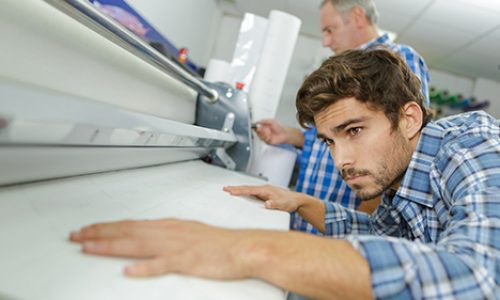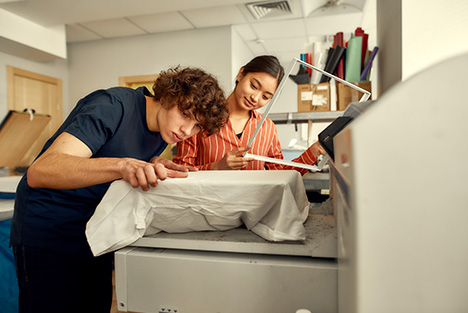 A cutting-machine operator cuts bundles of paper to pages of the desired size, using a computer operated and controled machine. In their work, the operator makes use of different kinds of ergonomic equipment like paper lift and transport systems.
Print folding operators tend a machine that folds paper and bundles of paper. There are different types of folding systems and folding techniques.
Carton-folding/stick-machine operator
A carton-folding/stick-machine operator tends a machine that folds and sticks cardboard to create three-dimensional objects for the packaging industry.
A bindery operator tends a machine that binds printed or unprinted paper into volumes using staples, twine, glue or other binding technologies. A book-sewing machine operator tends a machine that stitches paper together to form a volume and combines this with a book cover.
Die-cutting/emboss-press operator
Paper die-cutting and embossing press operators use a press to cut paper, or raise or recess certain areas of the medium, so as to create relief on the print. Two matching engraved dies are placed around the paper and pressure is applied to change the surface of the material, or cut it out.