RESTRICTED WORKSHOP
The restricted workshop in The Netherlands took place online on September 15th 2021, gathering 15 participants among employers' organization, trainers/educators and HR managers of a number of companies.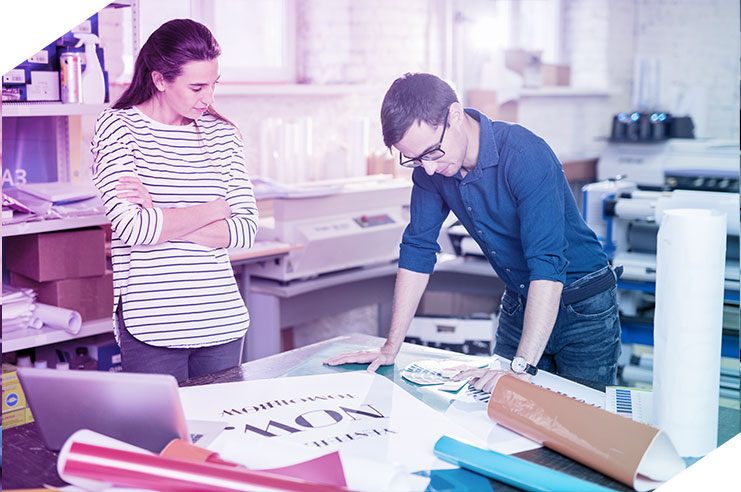 After an introduction on the development of the labour market in the Netherlands, as well as demographics on the printing sector (with attention to the unemployment figures, the expected outflow and the development of the training courses and the demand for them) some interesting key themes emerged from the discussions.
First, participating companies have been working for several years to find a good way of recruiting young people. To do this, it is important to familiarize people with the organization and to integrate them, in order to prevent premature departure. Among the most important points, it has been evidenced that:
Shiftwork is not something that makes youngsters happy, leading to a premature departure from the organization. Irregular shifts are not the main problem, but night shifts are;

Career perspective is important, young people want to grow quickly in their position and are looking for independence in their work. They have less patience. In addition, they can change jobs faster, they actively look around and look for the best option for them. They are looking for a pleasant workplace, personal development, self-development and perspective;


With regard to the recruitment of employees, it is advocated to develop a national 'catchy' campaign that makes working in the graphic sector attractive again. With attractive job names, such a campaign is now being prepared in the Netherlands. It is important that the image that people get matches the reality they find in their work. This can be done by using social media: TikTok, Youtube and, for example, Spotify. It is important that it fits in with the experience of young people. Good promotional material is needed, specifically in line with the company that is being created for.
The most important conclusions that can be drawn from the discussion is that the picture to be sketched of the graphic sector must be in line with reality. But most importantly, young people need to be heard about what they want and what they are looking for in their work: the tradition of a job with primary and secondary employment conditions on the basis of a traditional collective labour agreement is no longer sufficient. In addition, it shall be made it clear to companies that they need to think differently about recruiting people in other ways (channels are not the most important thing – but being authentic as a company and do what you promise) The next envisaged step is to talk to young people, inform them from primary school to secondary education and higher education. This can be done locally, but also nationally.
INFORMATION AND ORIENTATION MEETING WITH YOUNG PEOPLE
The orientation meeting with young people was held on October 12th, 2021 within the trade fair "Vakdag Print & Sign"[1] in Nieuwegein, which gathered more than 1,200 graphic professionals.
The meeting was attended by more than 150 people – entrepreneurs, HR specialists, young employees and students of the GLU – Grafisch Lyceum Utrecht. To integrate the Young Workers Day the Vakdag Print & Sign was exceptionally opened to students whereas usually it only accessible to employees and employers).
The main objective of the meeting was how to provide tools for companies in the recruitment of new staff; and where attention shall be paid to be able to bind young people and captivate them permanently. Therefore, in the format of an open conversation, the meeting revolved around the following themes:
What motivates young people to choose (or have chosen) a role in the printing industry: education, type of work, future expectations;

How to move in the current labour market as a printing industry.
The meeting was kicked off by generation specialists and researches on the topic of shortage of professionals and the role of Millennials. The most crucial requirements young people seek when looking for a new job where underlined – such as flexibility, freedom in work and room for self-development rather than permanent contracts. This naturally led to an open discussion between students, entrepreneurs, trainers and other stakeholders.
Fundamental was, during the discussion, understanding that young people think about work in a new way, and that the sector has to become aware of this in order to captivate and bind on that basis. The starting point is therefore awareness and dialogue, with a constant constructive collaboration with youngsters from the very beginning. As a final recommendation for the future of the sector, a kind of roadmap will be made in the short term to support entrepreneurs in drawing up a program of 'employer branding' with attention for students but also together with students. Students will be involved in drawing up this roadmap.
A video of the event was also made, and interesting thoughts and quotes from participants where collected:
"Working in the creative sector is super cool! And why? Because you see a lot of products that you produce yourself around you. As an entrepreneur, it is important to keep in touch with those young people, especially what is going on and what they like in their work, which is why I think it is important that we can have this conversation today!"
"I prefer to continue studying after this, so not to work yet. I prefer to think that I want to learn even more. So, I'm doing an internship for a month now and I'm starting to recognize a lot of things from what I'm learning on course and I think that over the months I'll also make more use of it myself"
"What I want to tell the employers in the conversation is that you have to talk to younger people and take young people in your company to hear from them what the latest changes are in the media and creative industry"
"What I really like most about my job and also about the profession, the whole industry, is that you have the opportunity to literally see the end product from the beginning of designing to literally that I can see the end product"